I am a diehard fantasy fan when it comes to stories, but when it comes to a good heart breaking contemporary I am sold. The Boy Who Steals Houses (TBWSH) stole my heart. I had figured from reading A Thousand Perfect Notes that I would enjoy this book but I don't think I was prepared how hard and fast I would fall in love.
They Deserve All the Hugs
Sam and Avery have had a hard beginning to life. They have both suffered from bad parenting and judgemental people. This has lead to both making some not so great friends and bad decisions. For Sammy this means
This has lead to Sam making some bad decisions including but not limited to breaking into houses and protecting his brother at the cost of hurting others.
…his life consists of charming locks, pockets full of stolen coins, broken shoelaces, and an ache in his stomach that could be hunger or loneliness. Probably hunger. p.1



The De Lainey Family
Sam just stumbles into the De Lainey family. A little under the weather and desperate for a free house he chooses their home to steal for the night at the very least. It was not as empty as he had hoped.

He's officially taken house burglary to the next level. Forget stealing a bed, a key, a home or the night. He's stealing families and their Sunday Lunches. -p.41
I loved the whole atmosphere of the De Lainey's. They were a family dealing with their own things and yet they loved and they fought. They disagreed and they teased. The whole dynamic felt awfully realistic.
#Ownvoices for Anxiety and Autism
Sam is such a anxiously, squishy human being. He seeks so much to care for and find a home for him and his brother which is a lot of pressure. Maybe he's made some poor decisions but at his heart is a soft squishy being who deserves all the hugs.
Sam looks down at his fingers wrapped around Avery's phone. 'I'll catch him if he falls.'
'Who catches you?" Moxie asks
Sam stitches on a pretend smile. 'It doesn't matter.' -p.271
Avery is the autistic brother. Many people don't understand. Their father didn't. Their auntie didn't. Avery's supposed friends didn't. Sam does. He knows what to do and how to be there for his brother. But being autistic doesn't discredit that he can make it on his own in life. He can hold down a job and wants look after his brother.
They're both just so adorable for words. I love them soooo much.

Jumbled Conclusion
I absolutely adored this book. It was both entertaining and emotional which is what I love to find in a YA contemporary novel.
Some questions I might have are does the baby even have a name if so what is it?! (Literally they don't use it's name) And where did Sam and Avery's Mum disappear to? Is she still alive? Is she in prison or living a better life? Would she look for her sons one day? Will they meet again? This book was written as a standalone but as I think of these questions I would love for a sequel that involved their Mum. Also I want to see how are sweet boys are doing in the future as well as the De Lainey's. But also putting this into Cait's hands is asking for more pain. As in I know I will love it, but it will also hurt.
In Short
Sam and Avery and the De Lainey's deserve all the hugs
The De Lainey family were realistic and relateble
#ownvoices for Anxiety and Autism
Trigger Warning: Contains physical violence in the form of abuse, beatings and one instance involving a knife.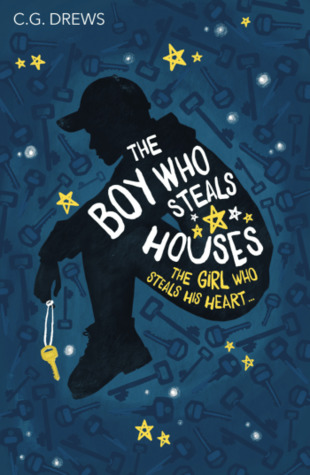 Can two broken boys find their perfect home?
Sam is only fifteen but he and his autistic older brother, Avery, have been abandoned by every relative he's ever known. Now Sam's trying to build a new life for them. He survives by breaking into empty houses when their owners are away, until one day he's caught out when a family returns home. To his amazement this large, chaotic family takes him under their wing – each teenager assuming Sam is a friend of another sibling. Sam finds himself inextricably caught up in their life, and falling for the beautiful Moxie.
But Sam has a secret, and his past is about to catch up with him.
~ Book Depository ~ Booktopia ~ Angus & Robertson ~ Amazon Aus ~
C. G. Drews Around the Net
~ Website ~ Instagram ~ Twitter ~ Goodreads ~
Have you read The Boy Who Steals Houses? What are your thoughts? Did you find Sam as soft and huggable as I did? What do you think of the autism representation? If you haven't read it, do you think you would?