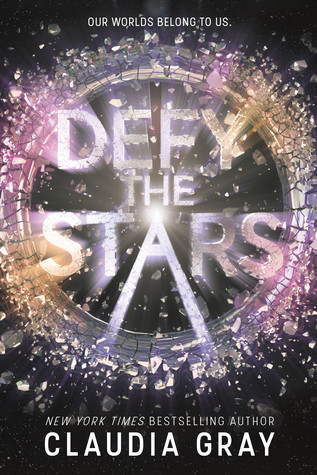 She's a soldier.
Noemi Vidal is seventeen years old and sworn to protect her planet, Genesis. She's willing to risk anything—including her own life. To their enemies on Earth, she's a rebel.
He's a machine.
Abandoned in space for years, utterly alone, Abel has advanced programming that's begun to evolve. He wants only to protect his creator, and to be free. To the people of Genesis, he's an abomination.
Noemi and Abel are enemies in an interstellar war, forced by chance to work together as they embark on a daring journey through the stars. Their efforts would end the fighting for good, but they're not without sacrifice. The stakes are even higher than either of them first realized, and the more time they spend together, the more they're forced to question everything they'd been taught was true.
In Defy the Stars, Claudia Gray weaves a masterful tale that explores the question of what makes us human. This tale is told through the perspective of Noemi a young 17 year old trying her best to save her planet Genesis which is at war with earth and through Abel, a mech whose complex programming makes him truly unique.
I found myself immediately entranced the story. I wanted to know what would happen and would they be able to accomplish what they both sought out to do.
Noemi, was a teenager only a year younger than me, but willing to risk or life to save her planet. This was amazing. You never know what circumstances may bring out of you, but this seems a rather worthy quality. Although, I feel a little bit sad at seeing this in Noemi, because it felt it was partly influenced by a lack of love she had felt in her life.
Abel was truly unique. He was a mech, a machine. He truly believed that he was ruled by his programming. He wanted to fulfill his greatest desire built into his very core to protect his creator, yet, after being abandoned in space for 3 decades he has changed in a way beyond any expectations.
Even though our main character's Abel and Noemi were hopping from planet to planet, Defy the Stars, didn't feel too fast paced. In each place we got to know a little bit about each area and become comfortable in it, knowing it before we moved on.
We travel the loop system in Noemi's ultimate mission to save her planet. We visit many of the planets learning how each one is unique. Some are for the workers and the young who can survive, others are for the ones with the technological skill and science, others are only for the rich as a holiday. It introduces cultures that are inexplicably connected to earth.
We meet a mixture of people. Some from earth, some from other planets. They are all so unique and I can't wait reunite with some of them in the next books in the series as well as learn more about the planets of the loop and earth. There are so many unique things I would love to learn about this new future sci-fi world we have been introduced to.
It is through the actions that Noemi compared to a terrorist are willing to take in the war for freedom against earth. It is ultimately what Abel was created for that make us wonder what is humanity, who can really define it?
Some aspects of humanity were programmed very badly. – pg. 148
I would have to say that I agree with Abel. Humans are a mix of things both good and bad and it's sad to see how much bad is in the world. We unlike machines are programmed from our surroundings and the ways in which we grow up. It's a programming that can produce no exact result. 
Overall I loved Defy the Stars. It was a book that enabled to soar through the stars, visiting many planets and interesting people all the while showing us how despairing the future can seem and what it causes to bring out of humanity. I can't wait to see where Claudia Gray takes this series next.
Claudia Gray's Bio (from her website)
Claudia Gray is a pseudonym. I would like to say that I chose another name so that no one would ever learn the links between my shadowy, dramatic past and the explosive secrets revealed through my characters. This would be a lie. In truth, I took a pseudonym simply because I thought it would be fun to choose my own name. (And it is.)
I write novels full-time, absolutely love it, and hope to be able to do this forever. My home is in New Orleans, is more than 100 years old, and is painted purple. In my free time I read, travel, hike, cook and listen to music. You can keep up with my latest releases, thoughts on writing and various pop-culture musings via Twitter, Tumblr, Pinterest, GoodReads, Instagram or (of course) my own home page.
If you want to contact me, you can email me here, but your best bet is probably to Tweet me. I don't do follows on Twitter, but I follow everyone back on Tumblr, Pinterest and GoodReads.
Have you read Defy the Stars? Or another book by Claudia Gray? What did you think of it? Feel free to share your thoughts in the comments.